New Page Titl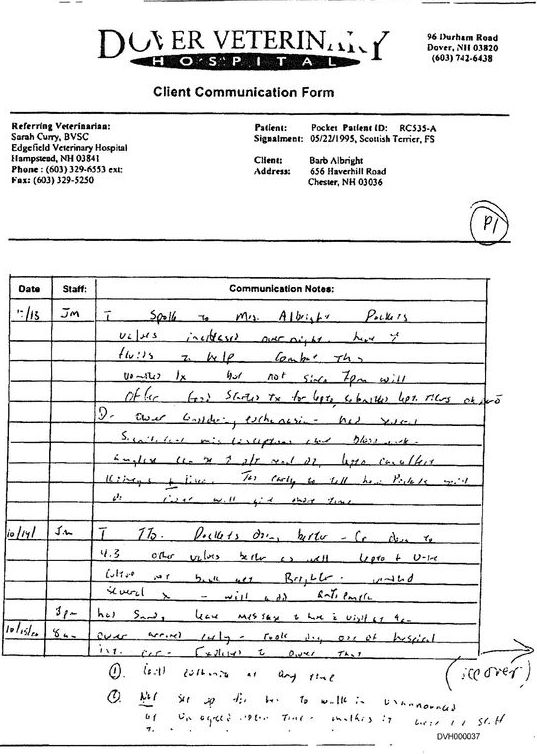 10/13 MacGregor acknowledges that I asked for euthanasia, but had not signed the "consent form"
He tells me it is "too early to tell" (what? who's dog is she, an 18 phosphorus after 18 hours of treatment? hello-spells very poor prognosis or to some Vets, DEAD DOG, ---I did not know these results, BTW)
He tells me I have "misconceptions"
10/14
Pocket "vomited several times" Sandy leaves him a "message"
10/15 Owner arrives "early" and he sees dog in car. He states we can "euthanize at any time"
BUT------ next page: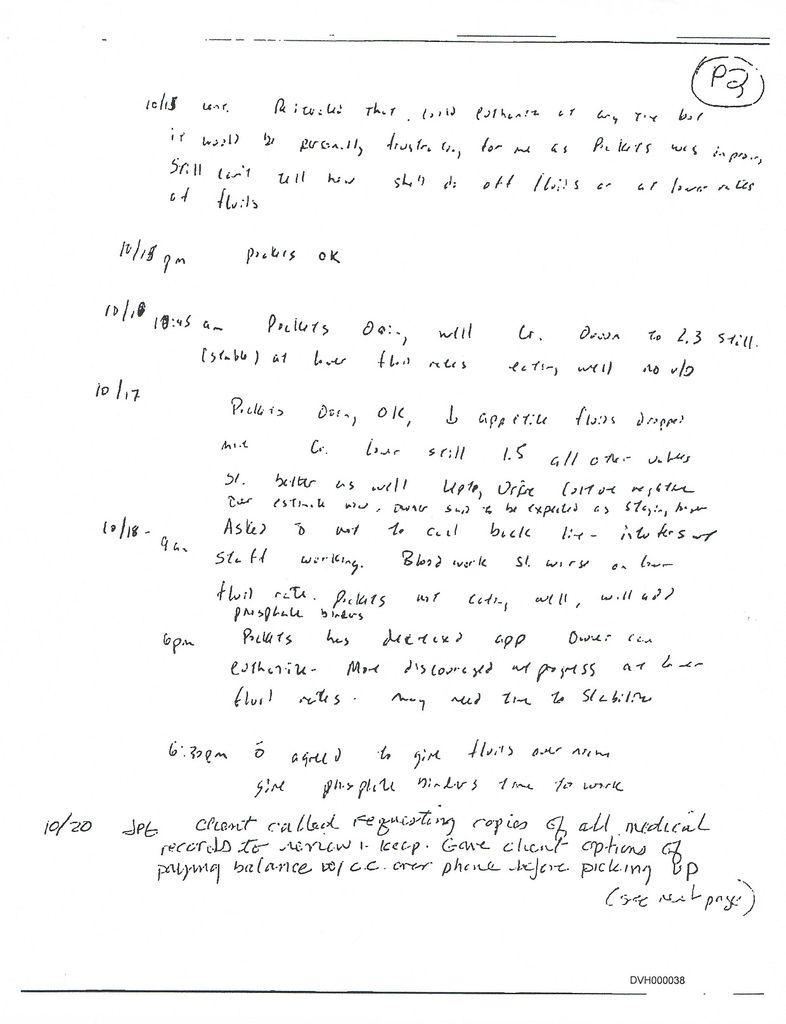 10-15 we can "euthanize at any time" BUT "it will be personally FRUSTRATING to him---
WHO CARED FOR POCKET FOR 11 1/2 YEARS??? Who does POCKET belong to? HOW DOES HE THINK HE HAS THE RIGHT TO DISCOURAGE US WHEN WE ARE:
sad, grieving, making an inportant decision regarding the beloved pet we care about????
10-16 POCKET IS DOING WELL-----??????????????
What is well? Sitting with a cone on her head so she doesn't chew her leg off? Refusing food from my hand? Not wanting to eat OR DRINK water? Not being able to: bark, stand up, walk, looking fearful and defeated?
10-17 decreased appetite (how about ZERO) , he asks me not to CALL BACK (what????), every other facility allows update calls to find out your pet's status and wellbeing. What kind of place allows no calls for the paying Consumer-Client to remain "uninformed" about their beloved pet?
10-18Pocket is NOT doing well, has decreased appetite, OWNER CAN EUTHANIZE---THANKYOU DR.MacGregor for GIVING US PERMISSION TO EUTHANIZE OUR BELOVED PET AFTER AN ENTIRE WEEK!